Let's be honest: decorating a Christmas tree isn't the easiest thing in the world. It requires a lot of time, effort, and money to get that perfect look, which not a lot of us are down for. You might have other commitments or simply don't want to indulge in the complexities of tree decoration. However, you still want to spruce up your space and bring in that Christmas spirit. Well, then we can offer you some advice. 
Get the Right Sized Tree
When going for a minimalist look, huge trees might not be the best option. Luckily, artificial Christmas trees come in a lot of shapes, styles, and sizes. Therefore, you can pick a petite pot or a medium-sized tree, depending on your preference. You can further trim or shape it as you like.
Go Bare
Forget the ornaments, and let your tree shine in all its natural glory. To spice it up a bit, you can add a tree skirt or some clear fairy lights, and you are good to go.
Mini Christmas Tree
Skip the big tree year by shopping for a miniature artificial tree and putting it on your table. If you already have a regular artificial Christmas tree, then you might want to get a little craft and cut off the tree tip. Place that part in a vase, and there you have it, your own tiny Christmas tree.
Christmas Tree in a Tray
You can opt for a Christmas tray then put your small Christmas tree inside it. You can further wrap it with burlap and couple it with a bowl of potpourri.
White and Minimal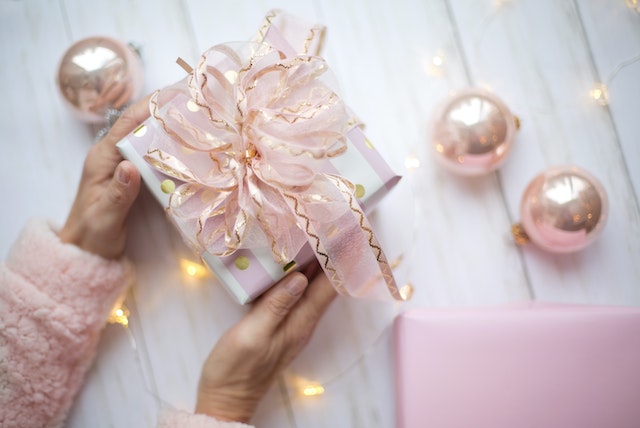 An all-white small or medium-sized Christmas tree looks both minimalistic and classy. You can add a few glittery snowflakes and pastel baubles to elevate the vibe of your room.
A Gold Bow
Adding a single big golden bow to your Christmas tree will give that subtle yet modern extravaganza. You can go for a shimmery gold color that will sparkle under the light.
White Poinsettia
The Poinsettia is a beautiful white holiday flower that will complement your artificial Christmas tree beautifully. Moreover, because they are bigger, you will only need a few of them to complete the decoration.
Colorful Flowers
If you are a flower person, this idea is for you. Get your hands on a few color faux flowers, and you can stick them in your tree in a contrasting pattern. You can keep it simple with one or two colors, or if you are feeling rather festive. You could even try an array of colors and make a rainbow theme. This idea requires no other decorative pieces other than flowers but will greatly transform your artificial Christmas tree.
Winter Wonderland
For this look, you only need clear lights, fake snow, and possibly a few silver baubles. You can never go wrong with a winter wonderland look. And depending on how simple and minimalistic you wish to keep it, you can skip the decorations.
Christmas doesn't have to be complicated anymore. Try our above ideas, and you will see how easy it is to be minimalistic yet indulge in the holiday festivities.